New Seven Wonders
Ancient Wonders
Great Pyramid of Giza
Hanging Gardens of Babylon
Statue of Zeus at Olympia
Temple of Artemis at Ephesus
Mausoleum of Maussollos
Colossus of Rhodes
Lighthouse of Alexandria
Middle Age Wonders
Stonehenge
Colosseum
Catacombs of Kom el Shoqafa
Great Wall of China
Porcelain Tower of Nanjing
Hagia Sophia
Leaning Tower of Pisa
Useful links
Taj Mahal, India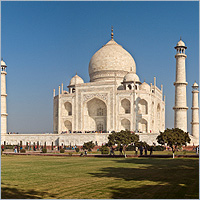 One of the seven wonders of the new world, Taj Mahal is a mausoleum that sits majestically along the banks of River Yamuna in Agra in the Indian state of Uttar Pradesh. Built by the emperor Shah Jahan in the loving memory of his wife Mumtaz Mahal, Taj Mahal enjoys the status of a UNESCO World Heritage Site and is regarded as the "jewel of Muslim Art in India". Made up completely of marble, the monument boasts spectacular architecture with beautiful carvings attracting millions of tourists every year.
How to reach
Agra is well connected via rail, road and air transport with every major city in India. Agra is around 200km from Delhi by road. Alternatively, many domestic airlines in India operate scheduled flights to Kheria Airport in Agra. One of the main train stations between Delhi and Mumbai, Agra is well connected by rail transport as well.
In and around
While Taj Mahal itself is enough to keep you spell bound and occupied, there are few other places of interest in Agra that you can visit. Agra fort, beautiful temples, manicured gardens, Akbar's Tomb and Fatehpur and Sikri are few of the other popular attractions in Agra.
When To Visit
While in summers, Agra can be uncomfortably hot, the city is prone to dense fog and freezing temperatures during winters. The best time to visit Agra is the months of October, November, February and March with days comfortably warm and cool nights.
Resources for India
1. FreakyTraveller.in | A Indian FreakyTraveller - FreakyTraveller.in, A Indian FreakyTraveller and India Travel Information and Travel Guide.