New Seven Wonders
Ancient Wonders
Great Pyramid of Giza
Hanging Gardens of Babylon
Statue of Zeus at Olympia
Temple of Artemis at Ephesus
Mausoleum of Maussollos
Colossus of Rhodes
Lighthouse of Alexandria
Middle Age Wonders
Stonehenge
Colosseum
Catacombs of Kom el Shoqafa
Great Wall of China
Porcelain Tower of Nanjing
Hagia Sophia
Leaning Tower of Pisa
Roman Colosseum, Italy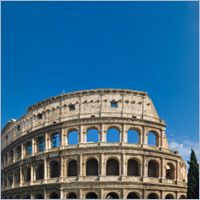 An elliptical amphitheater that was a center of learning, trade and commerce in the ancient times, the Roman Colosseum now is a UNESCO World Heritage Site and one of the Wonders of the World. the monument is located in the heart of the city of Rome and has long been used for gladiatorial and other spectacle events. It was constructed within a span of just 10 years and even after 2000 years, one can easily span the vision to gauge the intellectual abilities of the architects and workers.
How to reach
With an ideal location in the heart of the city, the Roman Colosseum is easily accessible. Visitors can reach Rome via the Leonardo da Vinci airport or by road or train if already in Italy. Once you are in Rome you can choose among regular metro, tram and bus services available from every part of the city.
In and around
After you've spent a few hours at the Colosseum, you can go on to explore the nearby attractions including scores of museums, gardens, Roman Forum, Circus Maximus, numerous plazas, gardens, parks old Rome and much more.
When To Visit
The Roman Colosseum is best visited during the months of April-May (spring) and October-November (autumn). While the autumn season will welcome you with bright sunny days, the spring season would offer you blooming fauna and a pleasing mixture of hot and cold.
Gorilla Tracking - Book cheap gorilla tracking safari in Uganda. Bwindi National Park - Africa.