New Seven Wonders
Ancient Wonders
Great Pyramid of Giza
Hanging Gardens of Babylon
Statue of Zeus at Olympia
Temple of Artemis at Ephesus
Mausoleum of Maussollos
Colossus of Rhodes
Lighthouse of Alexandria
Middle Age Wonders
Stonehenge
Colosseum
Catacombs of Kom el Shoqafa
Great Wall of China
Porcelain Tower of Nanjing
Hagia Sophia
Leaning Tower of Pisa
Christ the Redeemer, Brazil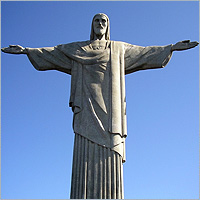 The largest statue of its kind, Christ the Redeemer is one of the most important monument of the Catholic Parishioners located at the top of the Corcovado Mountain in the Rio de Janeiro region of Brazil. It is made of reinforced concrete and soapstone so as to make it durable against extreme weather conditions. Once you are here, you can either hike up to the statue or you can use the escalators and elevators to reach the foot of the monument. The structure of Christ the Redeemer depicts "Christ loves all".
How to reach
Located in Rio de Janeiro, Christ the Redeemer can be reached by taking a flight to the Rio de Janeiro airport from any part of the world. The city is also well connected by rail and road to other neighboring cities.
In and around
Apart from the famed Christ the Redeemer, Rio de Janeiro boasts numerous other attractions. After exploring one of the wonders of the world, you can check out spectacular beaches, Corcovado, Pão de Açúcar, Lagoa Rodrigo de Freitas, MaracanãJardim Botanico and numerous beautiful buildings.
When To Visit
You can choose to explore Christ the Redeemer any time of the year. With the climate almost same every month, there is no specific period of the year that you should be visiting in. However, the monument is best visited during t he evenings when you can enjoy the beautiful sunset and enjoy the city of Rio glowing to life!
Other monuments
Rio has many other attractions worth to visit. Besides the Redeemer, there are many places of interest to be discovered like the sugar loaf, the beaches of Ipanema and Copacabana or the Jardim Botânico.