New Seven Wonders
Ancient Wonders
Great Pyramid of Giza
Hanging Gardens of Babylon
Statue of Zeus at Olympia
Temple of Artemis at Ephesus
Mausoleum of Maussollos
Colossus of Rhodes
Lighthouse of Alexandria
Middle Age Wonders
Stonehenge
Colosseum
Catacombs of Kom el Shoqafa
Great Wall of China
Porcelain Tower of Nanjing
Hagia Sophia
Leaning Tower of Pisa
Useful links
Petra, Jordan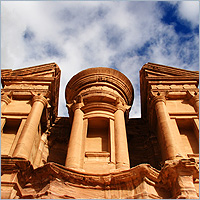 Dating back to 6th century, Petra is one of the most fascinating archeological and historical sites in the world and predictably, one of the seven Wonders of the World. Listed among "the 10 places you have to see before you die" by the BBC, Petra consists of massive and beautiful sandstone structures artistically carved into the sandstone mountains. Walk through the grand natural corridor of the sandstone canyon and check out the al-Khazne. Continue to walk through the Street of Facades and come face to face with tombs, monasteries and an impressive architecture.
How to reach
Petra is a comfortable bus ride away from both Amman and Aqaba. Regular organized tours are also operated from Eilat, Taba, Sinai and Sharm el Sheikh. Taking a minibus or a taxi from Amman and Aqaba is also a popular option. Reach and evening before and stay at a comfortable hotel.
In and around
While the magnificence of Petra will leave you hand over mouth throughout, the nearby Aqaba and Amman regions are also equipped with numerous interesting sites and attractions. You can also explore the nearby Dana and Wadi Rum.
When To Visit
Petra can be visited during anytime of the year. However, it is recommended that your trip to Petra should take you there during early mornings or late evenings as the slanting rays of the sun paint the whole site with colorful pastels. Check out Go Jordan Tours & Travel