New Seven Wonders
Ancient Wonders
Great Pyramid of Giza
Hanging Gardens of Babylon
Statue of Zeus at Olympia
Temple of Artemis at Ephesus
Mausoleum of Maussollos
Colossus of Rhodes
Lighthouse of Alexandria
Our Partners
Useful links
Machupicchu, Peru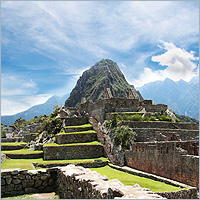 The Lost City of the Incas", Machu Picchu is one of the most spectacular archeological sites boasting a magnificent architecture. Elegantly designed as per the natural curves of the and dips, the Citadel is divided into the agricultural and urban sectors comprising of main squares, temples, palaces, storehouses, workshops, stairways, cables and water fountains. Machu Picchu consists of The Main Temple, The Temple of Sun, main gate and a long stairway that leads to the front gate.
How to reach
Machu Picchu is just a day's drive away from the city of Cuzco. Alternatively, you can also take an overnight journey from Aguas Calientes. Those willing to enjoy some adventure can take a multiple day Inca Trail trek. Bus service is frequent from Aguas Calientes.
In and around
Adventure lovers can enjoy thrilling treks at the Wayna Picchu, a towering mountain. Hike up to the Moon Temple and the Great Cave. Keep your eyes open, you might spot some exotic wildlife! After exploring Machu Picchu, you can explore the city of Cuzco dotted with museums, art galleries, buzzing restaurants, plazas and much more.
When To Visit
The best time to visit Machu Picchu is the months of May and June. During these months, you can enjoy mild climate and ideal conditions to explore the site. Avoid visiting Machu Picchu from December to March as it rains heavily during these months. Either chose early mornings or late evenings to avoid the rambling crowd. Check out Mythical Trails Peru with the aim of operating quality tours in Peru and Cusco region.