New Seven Wonders
Ancient Wonders
Great Pyramid of Giza
Hanging Gardens of Babylon
Statue of Zeus at Olympia
Temple of Artemis at Ephesus
Mausoleum of Maussollos
Colossus of Rhodes
Lighthouse of Alexandria
Middle Age Wonders
Stonehenge
Colosseum
Catacombs of Kom el Shoqafa
Great Wall of China
Porcelain Tower of Nanjing
Hagia Sophia
Leaning Tower of Pisa
Useful links
Chichen Itza,Mexico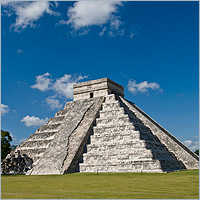 Located in the Yucatan Peninsula in the Yucatan state of Mexico, the archeological site of Chichen Itza is one of the most important sites of the Maya culture. The ruins of Chichen Itza are divided into two groups, viz. classic Maya Period and the Maya-Toltec Period. Although the prime attraction is the central pyramid, there are several other interesting structures in the complex such as ball court, Temple of Chac Mool, Templo de los Guerreros, Group of a Thousand Columns, Temple of the Tables, Sacbe Number One, Platform of Venus and the Cenote of Sacrifice. Truly a majestic site, Chichen Itza is surely a wonder!
How to reach
Chichen Itza is can be easily reached by road from the capital city of Merida and the resort city of Cancun as it is located on the main highway between the two.
In and around
Although Chichen Itza will keep you occupied, the region also offers exciting bird watching opportunities. On a hot day, you can cool yourself off with a dip in any of the nearby centoes. If traveling during March, you can cach up the celebrations of the The Decent of Kukulkan.
When To Visit
The best time to visit this Wonder of the World is the winter months. Contrary to the uncomfortably hot temperatures in summers and no drinking water available, winters offer a comfy and a pleasant condition, perfect to explore the site.